"Not hearing is not as good as hearing, hearing is not as good as seeing, seeing is not as good as knowing, knowing is not as good as acting; true learning continues until it is put into action." this is Student centric interactive pedagogy taught by a Chinese Realist Confucian philosopher who lived c 313- c 238 BC That's right 2300 years ago. Simply amazing.
When I first thought of the Padagogy Wheel Version 1 was for some University iPad Training Workshops in the UK, little did I realise, that it would grow into a learning model popular around the world. Today you can download the Version 4 English Version as a PDF with links to 122 apps and I am honoured that 150,000+ copies of the English Version Poster have been downloaded in the last 18 months. I wanted to show teachers how they could approach their pedagogy by starting with building a profile of what excellence "looked like" in the graduate and then applying a scientific model of motivation. Next how to use Blooms Taxonomy to define higher order thinking learning outcomes, then and only then should they think about technologies to enhance these defined outcomes. I also integrated the SAMR model to help point them to better design activities for using their choices of technology.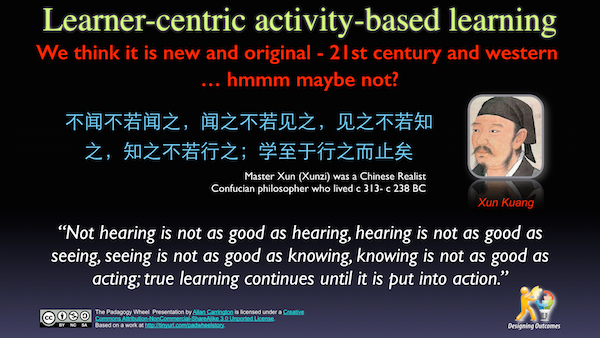 The Chinese Version of the Padagogy Wheel was met with such interest that I was invited to teach about it for a 17 day visit to this amazing country and met some very special Chinese speaking teachers. Apple Inc. China and South China Normal University Guangzhou sponsored me and there was seven presentations in the three cities of Nanjing, Guangzhou and Shenzhen, to approx. 950 – 1000 participants. Teachers are keen to learn new technology enhanced teaching methods. We worked really hard and translated my presentation content into Chinese, and it made a significant difference, not just to the comprehension but also to the embracing of ideas, as it was honouring their language. My presentation slides may interest. You can download a PDF of the Slides in English or in Chinese.
Twenty one (21) Languages committed to translation … and it is just the start: 2015 has been a big year, It was Dr Matt Harris the 2016 chairman of ISTE, who triggered the next stage of development of the Padagogy Wheel. He said in an unsolicited tweet "The Padagogy Wheel is an invaluable resource that should be on the wall of every classroom". Here you can read the full endorsement. Matt's challenge begged the question "Why should the Padagogy Wheel only be in English"? Just for a sidebar: What do you think of my hypothesis on Slide 25 – there is a PhD there for someone waiting to happen.
So I decided I should use Twitter to ask teachers if they would like to translate it into their heart language aka first language. I was again humbled by the response. The Padagogy Wheel poster will be available in at least 21 languages by the end of 2016. Five languages are already published: English • Spanish • German • Norwegian • Chinese. Then added to this, there are six more that will be published by the end of Feb 2016. That of: • Portuguese • Catalan • Russian • Dutch • French • Polish. A further ten languages are committed to translation during the rest of 2016. Simply amazing.
We need examples of best practice and more AR projects: We know the model works, five teachers in NSW Australia did an Action Research Project using the Padagogy Wheel and iTunesU. They asked 116 students 11-12 years old, to plan their own learning and use iTunesU to create ePortfolios. The results were significant. Eight out of Ten (8/10) students said they preferred this way of learning and had learned more than the traditional way of learning Science. Please read about this AR in my blog post "A New Spin on Effective Individualised Learning"
So many times in China I was asked about examples so they could learn how to do it. I have been invited back again in March 2016 and want to showcase these examples of best practice and research in presentations and on our Chinese Padagogy Wheel website. Something to think about, at last count there are at least 14.5 million teachers in China – consider the possibilities!
Please contact me: If you have used the Padagogy Wheel to think through your teaching and have developed any examples of best practice and/or you are interested in an Action Research project using the concepts.
Looking forward to further conversation