More Teaching Resources and now for both Apple iOS and Android
We are excited to announce the publishing of the Italian language Version 5.0. The Wheel area is bigger with more choices of action verbs and activities categorized according to the Blooms Cognitive domain categories in the Bloom's Taxonomy.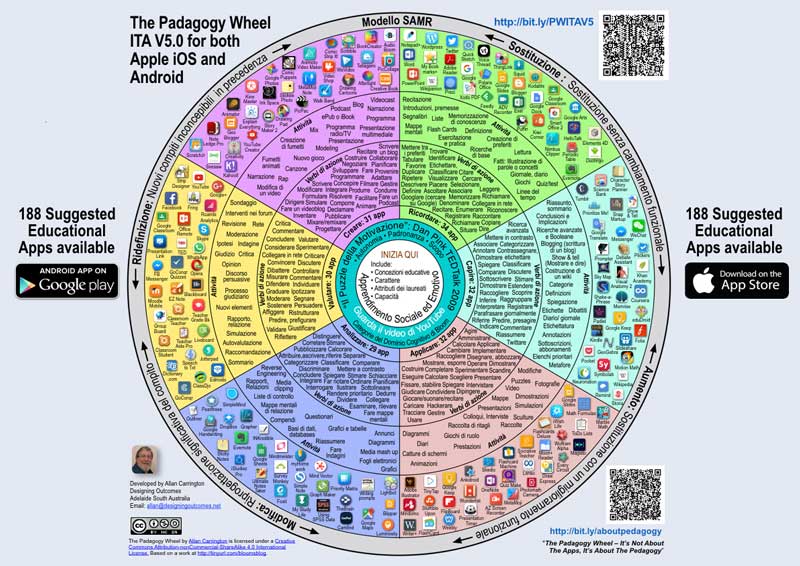 This connection of theory, practice, and application makes the Padagogy Wheel an invaluable resource that should be on the wall of every classroom".
"Questa connessione tra teoria, pratica e applicazione rende la Ruota Padagogica un'inestimabile risorsa che dovrebbe essere sulla parete di ogni classe".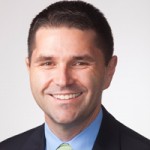 Matt Harris, Ed.D.
#EdTech Leader | Teacher | Mentor | Curator
http://mattharrisedd.com | [email protected]
Follow Matt on Twitter: twitter.com/mattharrisedd (@mattharrisedd)

Use the links below to download the Apple iOS or Android version of the Padagogy Wheel Poster of your choice.

Maria Montessori was one of the most significant teachers of the Twentieth Century
She was born in Italy and was way ahead of her time. Montessori passed the baton to Bloom. She died the same time Bloom was developing his taxonomy and quoting Maria Montessori is how Brett Salakas of St Kevin's Catholic Primary School Eastwood NSW (Suburb of Sydney) introduces why he and fellow teachers  undertook an Action Research Project in May 2014 using the Padagogy Wheel. This project was to research and report the results of a quite unique teaching and learning experiment. "A New Spin on Learning" is really worth a read.
Now we have an Italian Version of the Padagogy Wheel  and much of Montessori's thinking and methods in an indirect way will be helping Italian speaking teachers again in their first language.
Meet our Italian Language Champion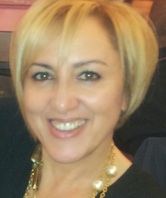 Dr. Maria Cristina Bevilacqua
Maria Cristina is a Teacher, Teacher Trainer and Mentor, ICT Coordinator, Researcher, Advisor, Consultant and Lecturer in the fields of : Innovative teaching, Cooperative learning, Learning Design, Peer Tutoring and Peer Education, Assesment and is also an eTwinning Ambassador.
She's been in charge of the Italian Section of the international research "Comparison of the English Core Primary Curriculum to those of other High Performing Countries" for National Foundation for Educational Research - NFER-DCSF, London (UK).
Maria Cristina has a Master's Degree in Foreign Languages, many degrees in Pedagogy, Didactics and Teaching Methodology and is working on a Master's Degree in Educational Innovation and Lifelong Learning. She has traveled extensively throughout Europe, thanks to Scholarships, courses and Jobshadowings ; she joined in former LLP Erasmus Programmes, now Erasmus+ and is a Pestalozzi Programme winner.
She lives and teaches in Ceccano, in the province of Frosinone; formerly a Primary School teacher, she's now working in a Vocational School for Tourism and Catering.
If you would like to contact Maria Cristina

Maria Christina lives in Ceccano (FR), 90 km south of Rome, Latium, in the fantastic region called "Ciociaria", a land full of historical sites, home to famous people in the field of History, Arts, full of breathtaking scenery and of course, a tasty and flavorful cuisine. She is inviting you to come visit her region.
The Beginning of the Italian Version
I asked Maria Cristina to share how she got interested in the Padagogy Wheel in her own words . She said: "My parents were Primary teachers, my grandad was a Primary teacher, too, and I thought that was going to be my job, because I saw their enthusiasm in helping pupils finding their way in the world and their need to find different, motivating way to teach. My father went to school with bags full of games and strange tricks and tools to teach Maths, and his students loved him…and his subject, too!
I've been teaching since 1984, but I used computers for teaching for the first time in a Course at CAVILAM, in Vichy, in 1982: I learnt how to write French exercises for students using a computer, but, being not so good with DOS, I thought that it was too difficult for me. But something started to work in my brain: it would have taken time, but that could be the future of teaching.
Many years and many courses from then, I came across the Padagogy Wheel thanks to a Professional Association  of teachers , ANITEL: I found it a fantastic tool that linked Pedagogy Theories and Technology to help students in reaching their learning goals in a more aware, creative,  involving way.
I visited the website and I was astonished when I found that there was no Italian translation! So I asked Allan if I could do it, and we started a long , enriching correspondence made of mail, messages, posts, a little bit complicated by the time zone offset!
It was not so easy to translate the Wheel: some words have no direct  correspondence with the Italian, and sometimes it is difficult to make a full sense without distorting the author's idea, but I think this is still an important job: in Italy there are many teachers that could find too complicated to use the original wheel but I think they will make the most of it, thanks to my work.
I had the chance to present the Wheel  in two special occasions: The  2nd International Move Conference in Naples, in October and the TESOL Italian Conference in November, and everywhere I found attentive, interested, excited colleagues  that have asked for so much information on the wheel and its use that I decided to run a Webinar on eTwinning in February for the European eTwinning Ambassadors and in Italian for Italian eTwinning teachers.
Mindful of my father's lessons, saying that pupils have to "manipulate" knowledge, I also build a cardboard "portable wheel", to make it more easy to use, and this has been very successful during my presentations, because it helps to narrow down the search of the various areas of interest.
I'm a teacher, a teacher trainer, an ICT Coordinator in my school, and this work was an important training, for me: it  connected all my knowledge and skills, forcing me to deepen and expand them.
So I can say I have many reasons to thank Allan, and certainly this post won't be enough, but I'll join lots  of Italian teachers that I will have the pleasure to meet, face-to-face or virtually, for illustrating this fantastic Wheel and its use.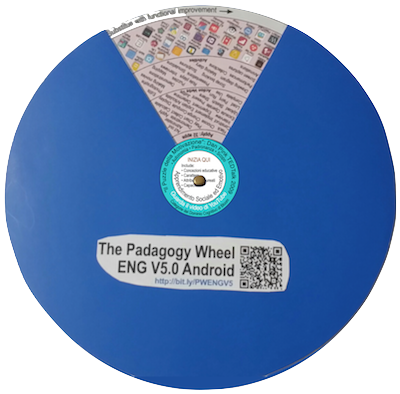 What's New on the Padagogy Wheel Italian Version 5
The Wheel itself is 25% larger in area yet still fits on an A3 or A2 size poster
Six Bloom's categories and double the resources
180+ Action Verbs and 100 Activities giving more choices for establishing outcomes
50% more apps on each Poster
Two separate Versions: Apple iOS and Android
Two Different PDF Files for each Version of the Poster
The ITA V5.0 PW Apple Poster: Print (17.4 mb)
This is a larger file to the screen size and designed to print the Poster as an A2 or A3 hard copy poster. Suggest it be laminated. http://bit.ly/AppleITAV5Print
The ITA V5.0 PW Apple Poster: Screen (1.3 mb)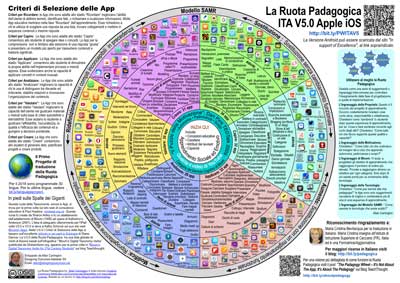 The ITA V5.0 PW Android Poster: Print (16.6 mb)
This is a larger file to the screen size and designed to print the Poster as an A2 or A3 hard copy poster. Suggest it be laminated. http://bit.ly/AndroidITAV5Print
The ITA V5.0 PW Android Poster: Screen (1.6 mb)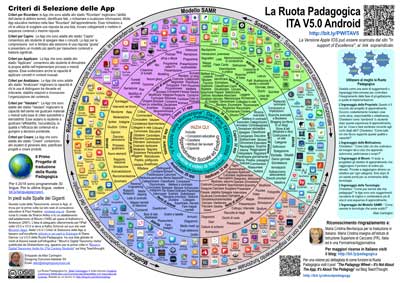 The Padagogy Wheel poster will be available in at least 30 languages by the end of 2018. Thirteen languages are already published. They are • English • Spanish • German • Norwegian • Chinese • Arabic • French • Russian • Czech •˙Hebrew • Hindi • Gujarati • Tamil. Added to this, there are four more that will be published in the next three months. They are • Swedish • Dutch • Polish.• Portuguese. A further eleven languages are committed to translation as soon as possible. If you are interested in translating the Padagogy Wheel into your heart language, then please read this Translation Method and get in contact.