There's good MOOCs and there's, well … good teaching makes the difference!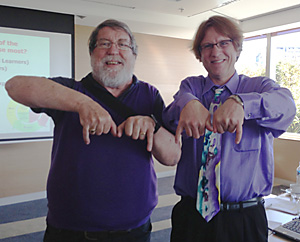 Prof Curt Bonk is in high demand around the world as a keynote speaker and someone who can shake up the status quo and engage academics and encourage them to seek excellence in practice.    During November 2012 he was invited to Adelaide to be a keynote speaker at the annual Festival of Learning and Teaching. Curt took time out to do this podcast episode with Allan about MOOCs  In this episode Curt explains why MOOCs suddenly have got the entire Higher Education Sector talking.  He shares from the lessons he has learnt from his first MOOC in May of 2012, His introduction to "Instructional Ideas & Technology Tools for Online Success is the YouTube Video embedded below.  As only Curt can, he has developed 20 teacher and facilitator guidelines that make a good MOOC and in this episode he expands many of these concepts
Teaching and Facilitating Guidelines
| | |
| --- | --- |
| 1. Plan and prepare | 11. Combine sync and async instruction |
| 2. Market the course especially to friends | 12. Arrive early for sync session |
| 3. Offer multiple types of contact info | 13. Allocate ample Q&A time during sync session |
| 4. Get help/assistance | 14 Share resources |
| 5. Designate feedback providers and tasks | 15 Personalize where possible |
| 6. Offer ample feedback from week one | 16. Use polling questions |
| 7. Use peer, machine, volunteer and self-assessment | 17. Check chat window for comments and questions |
| 8. Gather geographic data | 18. Reflect after each session (e.g. Top 3 activities in chat window) |
| 9. Use a warm and friendly tone | 19, Offer weekly recaps and updates |
| 10. Form groups and social supports | 20 Be willing to change midstream |
We go on to discuss how can a passionate teacher who wants to do a MOOC to get started, to not only use the university resources to reach even further with open arms (that's the idea of the arms in the photos) Curt explains the importance of Open Teaching and the benefits of all involved including the teacher/facilitators.
Please spend time listening to the episode and then there are so many more resources on Curt's websites "Trainingshare.com" and his Indiana University homepage "Curt Bonk's e-learning World". Bookmark these and browse often for a wealth of ideas and resources. As well here are the slide resources from the talks Curt refers to at the University of NSW and Macquarie University about MOOCs.
Podcast Episode: