[google-translator]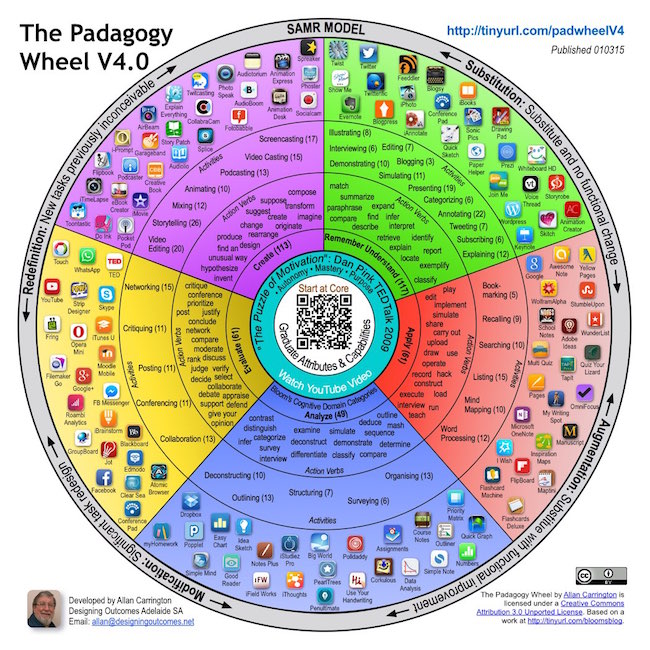 DOWNLOAD THE LATEST VERSION: V4 published Mar 2015.  This PDF Poster has links to 122 of the latest and most popular educational apps.  Now these resources are available in 19 different languages.  The poster also has app selection criteria according to Blooms taxonomy.  It could provide the backbone of a complete course or seminar on Learning Design. If you would like help with this please just ask.  It also prints well as an A3 poster. With QR Codes linking to more online resources.  You are also encouraged to print it out for use in your college or school.
V4.0 was published in March 2015 but I knew I was onto something useful when I first put the Padagogy Wheel together in July 2012. It was always designed to be a starting point to be developed further. It was originally meant to be an aid for my face-to-face PADAGOGY seminars which are mentioned in my post "The Padagogy Wheel … it's a Bloomin' Better way to Teach".  I have introduced over 600 university faculty staff to iPads in Learning and Teaching in about 20 universities in five countries in the last 3 years … I have talked a lot about iPads and can speak with some authority when I say that many teachers start at the wrong end of the process and try to work out how to use the features of the latest cool app and then think out what pedagogies will fit it.  The motivation for the Padagogy Wheel was "How do we show teachers that the pedagogy should drive the technology and not the other way around?  I am thrilled that in the first three weeks of May 2013 the Wheel poster was downloaded 6500 times and this blog is averaging 1000 visits a day at the time of publishing this post.
So why the need for Version 2.0? What are the changes, and is it worth downloading again? I will share some of my thinking and the "ah ahas"
We need to have transformation at the core of what we do: If it is all about the students, where do you start with curriculum and/or teaching design – surely it is with what do you want your graduates to look like?  i.e. what sort of capabilities and attributes should they have at the completion of your program or course. In the podcast episode "If you exercise these capabilities.. you will be employed!"  Prof Geoff Scott of UWS lists 15 graduate capabilities research has shown are requested by business.  These are all about transformational teaching and learning and one of the major "ah ahas" for me is that these capabilities are for the most part not targeted by our courses and programs in universities and colleges. Ask yourself the question "How many of these 15 capabilities I could confidently say are embedded in or even just touched on by the learning outcomes in my course"? To help teachers graduate attributes and capabilities are now at the core of the Padagogy Wheel V2.0 … The hope is teachers will reflect on these often when building curriculum and actually teaching and work out how they can build activities to help students excel as graduates in their chosen professions.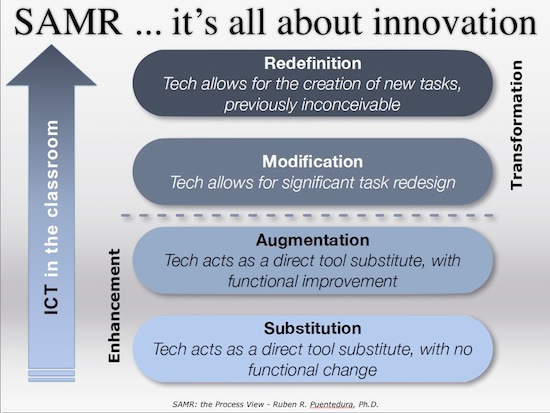 Technology integration into the fabric of learning and teaching: is where we should be heading with all we do as teachers.  We need to ask ourselves are we using the technology to its best advantage to empower students to be all they can be or do we just use it because everyone's doing it. How to best think about integrating technology and maximising its impact was really stretched when I met Dr P. as we call him in the Apple Distinguished Educator Community.  Dr Ruben Puentedura developed the SAMR Model, which is of great help when designing activities to support learning outcomes.  Consider it a grid to filter your choices made with help of the wheel.  Think about how you can design activities to not just use technology as substitution but to incorporate redefinition as much as possible. Much has been written about this model and incorporating it as a filter on the outside of the Padagogy Wheel V2.0 will I think help teachers come up with some innovative outcomes and activities that improve student engagement.
Finally, can you help with V3.0?:  There's more we can do with this concept.  Mobile learning and the use of tablets are fuelling a heap of new and useful apps to help learning and teaching. How do we keep the wheel up-to-date?  Of course apps can also sit in more than one cognitive domain and I encourage teachers to think outside the box when choosing apps for activities. Not just adding and/or replacing new apps but there is the strength of combining two or more apps into learning sequences or activity flows and the outcomes learnt from using them this way. e.g. If I combine App A. with App B. and have students complete these activities using both these apps, do we get increased student engagement and much stronger learning outcomes?  If we do, then does this help transform the learners?  Also how do we gather and share lesson plan exemplars and the best practice creative use of App sequences to achieve higher order thinking from the learners? Wouldn't these activity sequences be helpful to many teachers in the form of templates?
Please join in the conversation with your ideas and comments using the comments area of this blog.
Online Resources

The Padagogy Wheel by Allan Carrington is licensed under a Creative Commons Attribution 3.0 Unported License.  Based on a work at http://tinyurl.com/bloomsblog.