When I received the invitation from the new Lee Kong Chian School of Medicine at the Nanyang Technological University in Singapore, I decided to completely upgrade two seminar workshops. Dr Ian Green from the School of Education here at Adelaide and I have used Padagogy101 (introduction to iPad in HE) and Padagogy201 (more advanced use for L&T) to train over 600 faculty from universities in Australia. For Singapore, Ian wasn't going to be with me and I was solo, as well I needed a better way to leave resources in place for people to revisit.
However I was completely surprised at what else happened. During my research I saw lots of great work done by others using Bloom's Taxonomy including the Revised Taxonomy which has now become the Bloom's Digital Taxonomy. However when I discovered the excellent pioneer work done by Kathy Schrock with "Bloomin' Apps" I got the idea for the Padagogy Wheel. Dare I say it but it is the next version for mobile learning of the ongoing importance of Bloom's Taxonomy. Bloom's is still fundamental to good teaching and learning.
It was a huge amount of work to meet the Singapore deadlines and involved quite a bit of lost sleep. However it has been more than worth it. These two revised workshops were met with a very positive response at NTU and people are already talking about the Padagogy Wheel in England my next stop. How does it work? I'm not apologising for the frequency I use this term, but it is truly all about the students. Teachers as many of you know, strive to define learning outcomes across more than one intellectual behaviour of the taxonomy. I personally strive to set a learning outcome from each of Remembering/Understanding, Applying, Analysing, Evaluating and Creating. I encourage teachers to spend quality "caffeine-charged" time 🙂 with the action verbs. Next ask yourself the question "By the time the student/learner completes this workshop they should be able to (add the action verb)". Then think about what activity or product which might achieve this.  You are well on your way to defining learning goals which are higher order thinking skills.
I have added 62 iPad apps to the wheel and put them where they could serve the pedagogy. These are not necessarily the best app for the job and many of the apps can be used in different realms but it is a good start. I hope it helps you rethink the iPad's use in Learning and Teaching… it is not about the tool nor the app … it's all about the students. Also if you have discovered a better app to serve a creative pedagogical use, then please share it in a comment to this blog post… there is always a better way!
When I first posted this blog entry I had the files and resources for the presentations in my Public folder of my dropbox.  The amount of interest and visits has created problems so I have reposted them to another website. They are now available at
Think outside the box and consider the possibilities!
Major Update Announcement: April 2015
In the 15 months from Jan 2014 until Mar 2015 139.324 copies of the Padagogy Wheel V1 thru V3  PDF posters have been downloaded from this blog site.   The Padaogoy Wheel is now more a Learning model about integration of technology and learning than it is about iPad Apps The incredible interest and support is amazing.  At the beginning of March I realised a major upgrade was needed and I am pleased to announce the release of The Padagogy Wheel  V4.0 with 122 of the latest Educational Apps and selection criteria and support information linked to the wheel. Thanks to APPitic.com all this is available in 19 Languages. Please visit the Blog Post about V4.0 and also the release of the SPANISH version. Nine other languages are being produced to be published by July. If you are interested in helping with translations then please read this extended Twitter Post.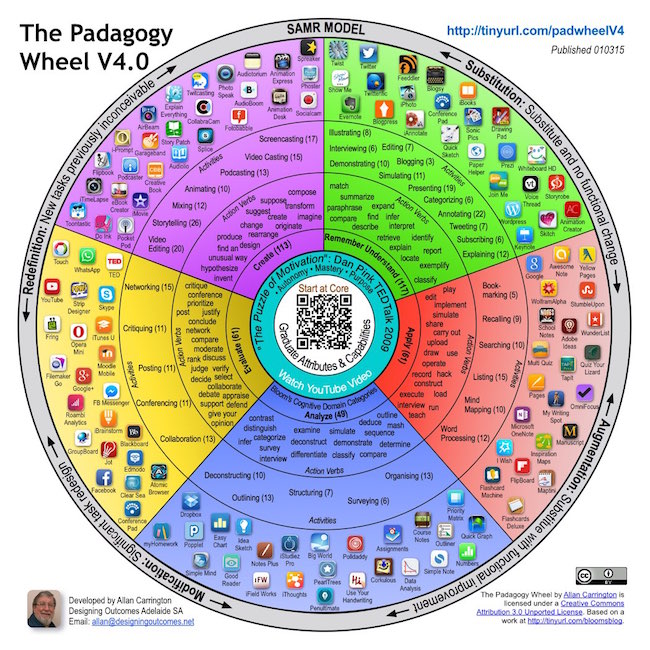 The Padagogy Wheel by Allan Carrington is licensed under a Creative Commons Attribution 3.0 Unported License.  Based on a work at http://tinyurl.com/bloomsblog.