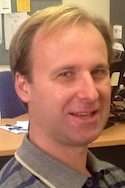 Plato in about 430 BC said that "necessity is the mother of invention", just imagine what he would have said if he had an iPad 🙂  Well it was necessity that inspired my colleague in the eLearning Team at the University of Adelaide, Simon Smith to develop a work flow for e-assessment that brings tears to an academics eyes … well almost.  Simon had to grade papers for some tutoring he was doing and like the skilful nerd that he is, he used technology to make grading assignments significantly less time consuming for the teachers, while cleverly providing the tools to help teachers deepen and personalise their feedback to the students.  BTW nerds are indispensable team members in the new age of 21st century learning design … teaching is all about the students and all about teaching teams supporting the learning.
In overview this is how it works. The Quality Feedback system Simon designed, is to be used on an iPad with a very sophisticated PDF annotation app called iAnnotate   FIrst the assignments are extracted from the University LMS and populate this web based repository. Teachers can then choose an assignment as needed.  Now it gets really smart as when the teacher clicks on the next assignment wanted for grading, the scripting automatically loads it into iAnnotate where there is an armoury of annotation tools and the teacher can quickly provide rich quality feedback to the student not only with text comments but also voice, but there is more.  There is a web based rubric like form that the teacher can make value judgments on the assignment and quickly generate an email based feedback summary. The thing that has proven most successful in improving the student experience is the richness of the feedback which when students read/listen to it they also sense it is much more personal.
This is win/win for both the teacher and the student. We are getting reports it saves about 33% of the teachers time would you believe.  Why don't you look at the Vimeo video below look at the Quality Feedback website and then send Simon Smith an email and ask him to present to you and your colleagues … but be warned there may be a line in front of you.  I have seen two different universities competing to see who could invite him first 🙂
Quality Feedback
from
Corey Durward
on
Vimeo
.