National Citations for Passion … It doesn't get much better than that!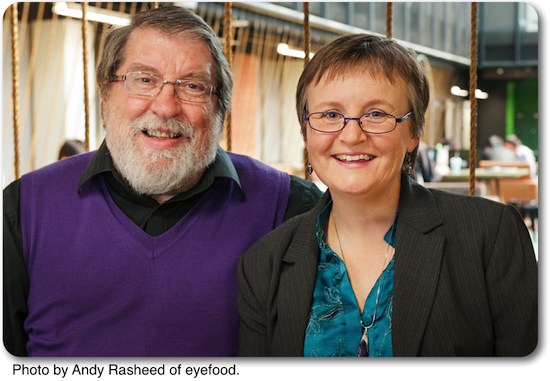 "On behalf of the Office for Learning and Teaching (OLT) I am pleased to advise that your nomination for a 2012 Citation for Outstanding Contributions to Student Learning has been successful" that opening line of an email made my week .. actually it made my last 10 years.  I grabbed the mobile and called a good friend and colleague "Did you get it?" …. pause  "Yeees! did you?"  "Yep!" was the best I could reply in the excitement.  I was talking to Linda Westphalen from the School of Education here at the University of Adelaide.  We had just found out both of us had been successful in winning a National Citation or award, that is the top of the Learning and Teaching heap for the Higher Education space in Australia.  Only 152 of these prestigious citations are granted across 38 universities and Adelaide has been granted two and we did it.  Besides the kudos which is big, it comes with a A$10,000 prize for professional development … that is also nice.
Linda's citation reads: "For vibrant and compassionate approaches to teaching and learning, which inspire students' enthusiasm and passion for the profession of teaching." While my citation reads: "For sustained commitment to inspiring, challenging and mentoring academics to teach with activity-centric pedagogies and the latest learning technologies, to enrich the student experience."
This podcast episode is the first in a series of conversations together to discuss the teachable moments we both have had while reading each others citation applications.  We have links below to download our application documents and I encourage you to read them, as they are roadmaps on our journeys and full of personal "ah ahas".  We never saw each others application before submission, yet the overlaps were significant. In the podcast Linda refers to them as bookends of the same thing – I agree.  The title hopefully got your attention, for to achieve best practice a teacher must be passionate about their content and their craft.  However as Linda shares in this podcast  a good teacher must also have a passionate care for their students as well.
We introduce the question "Can passion be taught and can we actually build PD resources and training to teach a teacher to be more passionate about their practice?"  The jury is still out on this, so please chime in with your comments below we would love to have your opinions.
Linda introduces in her application, an intriguing concept called "the chain of care" and talks more about it in the podcast.  She explains how Nel Noddings developed the thinking on this and there are some great resources linked below.  Could she be right? The starting point is easy to understand but the end point she claims is "never". The chain of care continues after the students move on.  Boy that could have radical implications if implemented? Any thoughts? Another proposal is that university leadership should recognise caring in teachers.
We also begin to unpack this great extract from Linda's application:  "Piaget and Vygotsky argue that people learn by experiencing knowledge at fundamentally emotional and cognitive levels:  they don't learn because a lecturer prattles.  Enthusiasm, care and passion are essential for all teachers, whether in a university or in a school, since this makes the student experience (in the lecture theatre and in the cranium) enjoyable and satisfying.  Student experience is considered an imperative in universities these days.  Unless university teachers care, this imperative is nothing more that fluffy rhetoric.  More importantly, this pedagogy ensures that students learn actively and retain knowledge."  The best student experience at a university must include caring teachers, skilled in best practice methods. get it out of balance and it is fluffy logic … hmm!
There is a great deal of information online about Piaget and Vygotsky, but we had to include this YouTube video as a clear explanation of their theories. Also this video is an example of the way creative use of media can in-fact enrich the teaching … "Piaget and Vygotsky in 90 seconds"  is characteristic of how video is being used by today's students … mixing up information from different sources  and creating mashed up content some with excellent results.
Linda's final challenge is on how technology might enrich the teaching experience and gives us the lead in question for the next episode. Please listen to the conversation and we value your input.
Let's continue the conversation
Allan
Podcast Episode:
Online Resources of interest:
The final Youtube video is an example of the learning style of the future.  The author says "I couldn't find anything on youtube to use in my presentation , so decided to try my hand at making my own"   Here is the mashup result …. it's good.
Nel Noddings on Caring