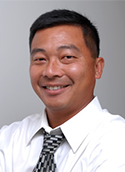 We were introduced to Tran in the hallway of California Baptist University's new CBU Online Division. He guided us into his office. Richard and I had the same response simultaneously "Whoa nice office!" … it was a nerd reaction as Tran has at least five monitors around the corner of his desk space and it looks more like a NASA control room than the office of a university faculty.  🙂  Tran Hong is the Dean of Technology for Online  and Professional Studies for CBU Online and we were truly engaged as he shared how they are using
CISCO Systems Webex and Telepresence technologies
to connect with their students across the globe.
They are using the blended or hybrid approach with a mix of reaching individual students and extension locations with high resolution video presence on room size monitors. Watch the video and see how they are doing it.  As I reflected on a comment Tran made about "high touch"  I understood the importance of socialisation in a faith based university like CBU.  The connection between high touch and building a learning community and how to manage this online, now with this high tech solutions available, begs for educational research. Questions are running around my head like:
Now we can see and hear each other as if we are in the same room, is it really as good as face-to-face?
Is one way didactic lecture better this way than recorded in a lecture hall on campus and revisited by students in a LMS?
Does it improve retention?
How do you manage and initiate interactivity?
Is this really practical in the majority world?
How much better is it than well designed, social constructivist pedagogy, delivered by a LMS managed by a committed teacher well trained in online facilitation, who uses low threshold approach synchronous technology?
Blended refers to the delivery of synchronous and asynchronous  methods but what opportunities does this new technology provide for blending new learning sequences  or pedagogies?
I am looking forward to further conversation with the great team of people we met at CBU Online, as we explore the future together