In the previous episode of our podcast, Linda's final challenge of "How does technology enhance learning?" set off a chain reaction in thinking.  It went something like this:  OK what are we trying to enhance?  We are talking about learning  within the framework of an experience or course. What sort of course? We are calling it a "21st century technology enhanced learning course".  Now this course could be completely online with remote cohort or completely face-to-face or a mixture of both.  Then the question I (Allan) get asked most over the last 10 years came to mind, "How do I build an online course, how do I use technology in my teaching?"  This led to the development of a new presentation I have called "A Flipping Better Way to Learn".  The presentation we hope will help answer these questions.
In today's episode we start with curriculum design and as we unpack the process which we think you will agree …. is flipping different.  Different in that we start at the end and reengineer backwards from the articulated description of the graduate through the process of transformation.  The traditional place to start with a course is the body of knowledge. Sometimes via a textbook and sometimes via the gathered knowledge and experience of the teacher.  In this episode we suggest that is the wrong place to start to design a course.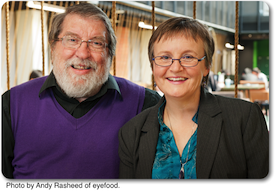 We unpack a five step process beginning with Graduate attributes …. what do we want our graduate to look like, be like, behave like, and think like. Next comes the learning outcomes of the course  what do we want to achieve from this learning experience to help the graduate to look like our exemplar.  Next we must ask ourselves, how do we know they (the graduates of this course) fit this description … so third out of the gate is assessment.  We talk about why it needs to authentic and what does that mean.
Number four on the list is the "doing stuff" … the learning activities.  This is to prepare the student so they are ready for the assessments and so they can get the most out of them. That's the formative part.  Now this brings us to point number five …. the content.
Some may think this is strange that content is last – but it is all about context.  When the first four pillars are in place content then is fitted in where and when it is needed and the teacher has control of his/her "anupholsteraphobia" To understand that you will have to look at the presentation at 6.04 mins  🙂
"A Flipping Better Way to Learn" is the launch pad for a lot more.  From many of the individual slides you can dig down to workshops or complete seminars.  We will be doing more podcast episodes to help build better Technology Enhanced Learning (TEL) courses.  Please use the comments on this blog to join in the conversation.
Allan and Linda
Podcast Episode:
Online Resources of interest:
Slideshow: A Flipping Better Way to Learn