[cs_section id="" class=" " style="margin: 0px; padding: 45px 0px; " visibility="" parallax="false"][cs_row id="" class=" " style="margin: 0px auto; padding: 0px; " visibility="" inner_container="true" marginless_columns="false" bg_color=""][cs_column id="" class="" style="padding: 0px; " bg_color="" fade="false" fade_animation="in" fade_animation_offset="45px" fade_duration="750″ type="1/1″][cs_text id="" class="" style="" text_align=""]
The 'Meginar' : Harnessing the Power of eLearning in HE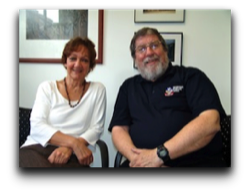 [dropcap]B[/dropcap]ut there is more, in 2006 I approached Professor Diana Laurillard of the London Learning Lab at the University of London about leading a MVP to university locations across Australia and NZ. Diana has an international reputation as being a thought leader in elearning in Higher Education.
This time 41 university locations happily agreed and we had over 400 learners online simultaneously for the event across many time zones.
Diana titled it "Harnessing the Power of E-Learning in Higher Education" and was happy to take my lead in the learning design. She responded very positively to my request of only 10 mins of didactic content delivery (lecture) at a time then an interaction. We used PowerPoint slides with fields for feedback content from the audience and had timed and structured interactions and discussions every 10 mins.
I called it the "Meginar" because of its size and I think this is still the benchmark in educational webinars. In the lead up to the event I ran training sessions for the location leadership teams and we planned how to gather the knowledge. I had the privilege of meeting Diana face-to-face when I visited and presented at the London Knowledge Lab a year later.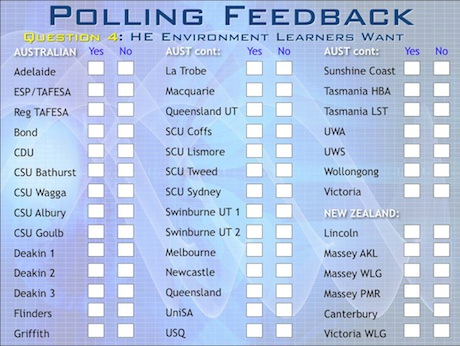 41 University Locations:
Using Powerpoint slides like a form, for annotation to gather feedback.[/cs_text][/cs_column][/cs_row][/cs_section]