[cs_section id="" class=" " style="margin: 0px; padding: 45px 0px; " visibility="" parallax="false"][cs_row id="" class=" " style="margin: 0px auto; padding: 0px; " visibility="" inner_container="true" marginless_columns="false" bg_color=""][cs_column id="" class="" style="padding: 0px; " bg_color="" fade="false" fade_animation="in" fade_animation_offset="45px" fade_duration="750″ type="1/1″][cs_text id="" class="" style="" text_align=""]
Then came Podagogy and Podcasting
[dropcap]I[/dropcap] couldn't help but be excited about Diana Oblinger's invitation to travel to the huge EDUCAUSE conference in the USA in 2005 and be part of the first podcasting team. Would you believe someone was paying me to go to Orlando Florida and walk the conference halls talking to innovative people, from all over the world, about their exemplar practice in elearning … someone has to do it I guess. An unexpected and exciting outcome of this trip to EDUCAUSE was the development of
a new model of educational podcasting
. The aim of this model is to publish podcasts of the insights and experiences of participants at the conference. These podcasts will provide a valuable resource for further conference promotion and for use as learning objects.
I also met Assistant Prof Randy Meredith from Spring Arbor University (that's us on the floor). Randy was the inventor of the word "Podagogy" (pedagogy on iPods) and who had developed a pedagogical model for educational podcasting. We have jointly presented on this subject.
This passion for podcasting was a driver to lead podcasting programs to capture the knowledge and wisdom of Australian educational conferences in 2006 through 2011.
In 2007, I teamed up with Dr. Ian Green from the School of Education and we have talked to hundreds of academics from around the world about their research their teaching and their student outcomes. All the time representing the University of Adelaide and developing networks. The highlight was podcasting Macworld USA for three successive years for the Apple University Consortium. (AUC)
[x_video_embed no_container="true"][/x_video_embed]
A Profile of Success on the Apple Website … now that's cool
To someone who uses a MAC, to be featured on the Apple website for your work is truly heady stuff, so when in 2007 Apple Australia published a profile on their website called "Breaking with tradition – profiles in success: The University of Adelaide", it was truly personally satisfying. This profile has been archived and is available here. This article was all about Educational Podcasting at conferences.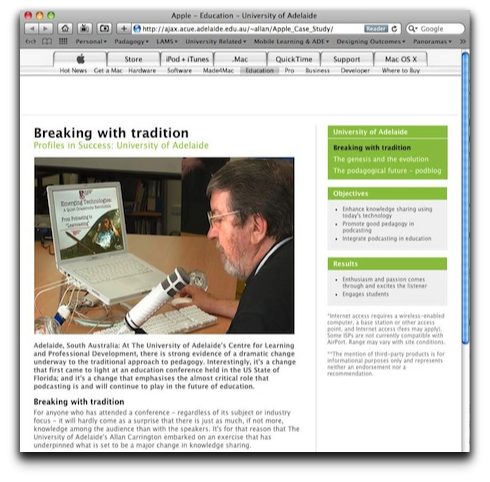 This pioneering work in podcasting was the core of my application to be an Apple Distinguished Educator (ADE), which was awarded in 2009. Being an ADE has given me access to a creative community of educators throughout the world, who have as their main KPI … "making cool stuff". Joking aside, it gives me access to some of the most innovative use of technology for learning available, and has been a source of great ideas for the last seven years.
[/cs_text][/cs_column][/cs_row][/cs_section]