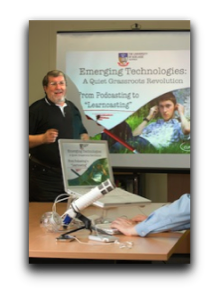 As I look back on the last eight years, I believe I have used my strengths and consistently reached my career goals. My task has always been to support the teaching faculty, to help them increase student engagement, enrich the student experience and achieve better learning outcomes. For years I have joked with those academics I am helping that my success "is making them not only look good, but to teach well and get excellent SELTS." I have been the silent partner in helping some very skilled and gifted teachers achieve quite a few citations, awards and grants. This recognition has been both internal and at national ALTC level.

Since I commenced employment, I have been working in an environment that aimed not to produce output itself for use in Learning and Teaching (L&T), but to inspire and equip the teaching faculty to do it for themselves. My job is to transfer skills and vision and show academics alternative ways to interact with their students and improve learning outcomes. In June 2011 I developed a workshop entitled "
It's All About the Students
". Forty academics attended and agreed with me about the importance of the Students, and many committed to pilot the pedagogies and technologies I recommended such as the
Learning Activity Management System
(LAMS).
Error : You must not have any spaces in your Teleport Key
[allaneportfolio]
Allan Carrington has been awarded the 2012 Office of Learning and Teaching (OLT) Australian Citation for Outstanding Contributions to Student Learning. His citation read: "For sustained commitment to inspiring, challenging and mentoring academics to teach with activity-centric pedagogies and the latest learning technologies, to enrich the student experience." He is also winner of the 2011 University of Adelaide Award for Excellence in Support of the Student Experience. This website was developed to support these applications and is now his ePortfolio.
Since 2003 Allan has been a Learning Designer with the eLearning Development Team supporting the university faculty.