Ms Jill Clausen, Clinical Lecturer from the School of Nursing, who currently runs the eSim, reports it has now run seven times since 2004, with 85 students immersed in it. Jill reports that student comments have always been positive. However, the best feedback came from Margaret Conaglen, a Christchurch student who was doing the eSim when an earthquake hit in 2010: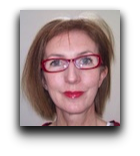 "We have lost a home but all my family is fine and we are counting our blessings. I wanted to let you know how often I thought about the "Disaster Down Under eSim" and how incredibly relevant it has been to the situation here at the hospital over the past week. Just about everything covered in the eSim played out here - including rapid patient transfers, mis-communication, gaining extra dressing supplies, sneaky media and staff burn out avoidance. The only difference of course was no burn injuries – just lots of trauma. I have to say our hospital did an amazing job and our ward coped very well."

Margaret Conaglen
Error : You must not have any spaces in your Teleport Key
[allaneportfolio]
Allan Carrington has been awarded the 2012 Office of Learning and Teaching (OLT) Australian Citation for Outstanding Contributions to Student Learning. His citation read: "For sustained commitment to inspiring, challenging and mentoring academics to teach with activity-centric pedagogies and the latest learning technologies, to enrich the student experience." He is also winner of the 2011 University of Adelaide Award for Excellence in Support of the Student Experience. This website was developed to support these applications and is now his ePortfolio.
Since 2003 Allan has been a Learning Designer with the eLearning Development Team supporting the university faculty.