The 'Meginar' : Harnessing the Power of eLearning in HE
But there is more, in 2006 I approached Professor Diana Laurillard of the London Learning Lab at the University of London about leading a MVP to university locations across Australia and NZ. Diana has an international reputation as being a thought leader in elearning in Higher Education.

This time 41 university locations happily agreed and we had over 400 learners online simultaneously for the event across many time zones.
Diana titled it "
Harnessing the Power of E-Learning in Higher Education
" and was happy to take my lead in the learning design. She responded very positively to my request of only 10 mins of didactic content delivery (lecture) at a time then an interaction. We used PowerPoint slides with fields for feedback content from the audience and had timed and structured interactions and discussions every 10 mins.

I called it the "Meginar" because of its size and I think this is still the benchmark in educational webinars. In the lead up to the event I ran training sessions for the location leadership teams and we planned how to gather the knowledge. I had the privilege of meeting Diana face-to-face when I visited and presented at the London Knowledge Lab a year later.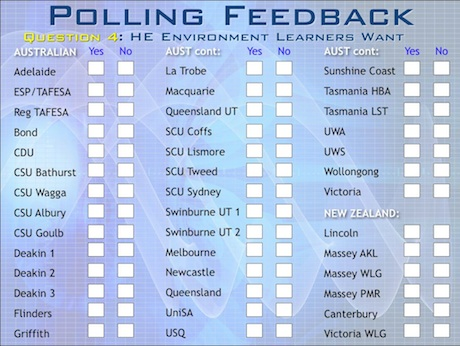 41 University Locations:
Using Powerpoint slides like a form, for annotation to gather feedback.
Error : You must not have any spaces in your Teleport Key
[allaneportfolio]
Allan Carrington has been awarded the 2012 Office of Learning and Teaching (OLT) Australian Citation for Outstanding Contributions to Student Learning. His citation read: "For sustained commitment to inspiring, challenging and mentoring academics to teach with activity-centric pedagogies and the latest learning technologies, to enrich the student experience." He is also winner of the 2011 University of Adelaide Award for Excellence in Support of the Student Experience. This website was developed to support these applications and is now his ePortfolio.
Since 2003 Allan has been a Learning Designer with the eLearning Development Team supporting the university faculty.